If you want an immersive sound experience while watching movies, or cricket games on your TV, setting up separate speakers on your TV would be ideal. Now, the question comes, will volume on TV work for speakers connected To the TV? Yes, it will work! By connecting separate speakers to your TV, the amazing volume will be generated from TV, which will enhance your watching enjoyment.
But, before setting up separate speakers on TV, you need to know the correct techniques for connecting speakers. Well, this article is here to help you. It will guide you in connecting the speakers to your TV in the right process. Let's start!
---
What Should You Do Before Starting The Speaker Connection Procedure?
Before starting the speaker connecting procedure to the TV, read the user manual of the TV and speaker provided by the manufacturer. If it is not provided, you can download the manual from the website of the specific company.
You can use the manual to locate the ports and speaker connection options available on your TV. Additionally, you might need to adjust a few TV settings to set up the additional speakers. You will be immensely assisted in proceeding with your task by the user manual.
---
How To Connect Speakers To Your TV?
Here are 5 steps to connect speakers to your TV. We have clearly described each step which you can easily understand.
1. Select The Speakers' Type
Speakers come in different types. Speakers can be connected to your TV in a variety of ways. The two major ways to connect speakers to TV are either a soundbar system or a set of standalone speakers and amplifiers. If you choose Stereo speakers, you can spend money on a 2-channel hi-fi amplifier.
In contrast, you can pick an AV receiver if you use Surround Sound speakers. Here we say that whatever type of speaker you choose, the methods of connecting to TV are the same for every speaker.
2. Consider The TV's Audio Output
Using your TV's audio outputs, you'll get the sound from the TV to your speaker system. Hence, consider the audio output of your TV. Most current TVs today have an audio output of some kind, which enables you to transport the sound from your TV's speakers to a speaker system.
The audio output on current TVs typically uses an HDMI ARC connection or a digital optical out. Both are available on many TVs, so you can pick whatever suits your needs better. To check your TV audio output type, look at the back of the TV and identify it.
3. Consider A Matching Audio Output On The Speaker System
After you've identified your TV's audio output, it's time to connect it to your speaker system. Use the same kind of connection for this as you would for the audio output on your TV. Consider connecting your TV to your soundbar or amplifier's optical input if your TV offers a digital optical output.
Use an HDMI ARC connection from your TV; however, for this to work, your soundbar or amplifier must support HDMI ARC. A stereo analog output must be connected to a stereo analog input on your amplifier, whereas a coaxial digital audio output must be connected to a coaxial input.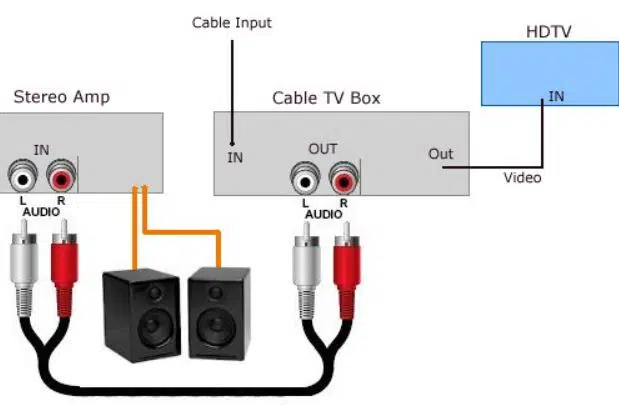 4. Connect The Audio Connections With A Cable
In this step, you should connect the audio connections with a cable. If your amplifier has an optical input, connect the optical wire from the TV's output to it. You must insert a cable with the designation ARC into the HDMI port on the TV for HDMI ARC.
The HDMI connector on your speaker system will accept the HDMI cable's opposite end. A coaxial digital audio cable is required to link the amplifier's input and the TV's coaxial output. A straightforward stereo RCA connection is all that's required to connect your devices if you're using stereo analog audio.
5. Test The Sound
The process of connecting the speakers to your TV is accomplished. Now, test the sound to see whether it is working or not. Turn on both your TV and speaker system. Play some music or movies on TV and check the audio quality. Make sure the sound is clear on your speaker system. The sound can come from different places. So, for this, you have to reduce the volume of your TV speaker.
---
Why Should You Use Wireless Speakers For Your TV?
There are many factors behind why you should invest in additional wireless speakers. Some people have hearing loss due to age or any other reason, so connecting additional speakers to the TV is the ultimate solution for a better sound experience. Some people habitually use headphones over the speaker for a clear sound experience while watching TV.
However, putting headphones on the head all the time can be uncomfortable for anyone. In this case, a wireless speaker is a better way to connect to the TV. The speaker gives better enjoyment.
Apart from this, a separate speaker setup is a great solution if you want a clear and amazing voice while watching videos. You can keep the wireless speaker near you while watching TV. You will hear every content on TV loud and clear.
---
Conclusion
Of course, premium TV speakers are efficient in producing quality sound; however, TV speakers may be small and may not deliver loud and impressive sound that can make you feel like a theatre in your living room.
If you have a Smart TV and play video games, add an extra wireless speaker system to your Smart TV for a better gaming experience. In terms of speaker type, both Stereo and Surround Sound speakers are the best products.
---
---
---