A high-quality monitor enhances your viewing experience, such as streaming video, music, etc. Sound quality is a significant factor in the utmost enjoyment of gaming. If you are a professional gamer, you would surely want an impressive and loud sound in gaming, whether you use a PC or a game console.
However, what would you do with a monitor without a built-in speaker system? Well, in that case, you'll need a separate speaker setup for your monitors. If your monitor doesn't have speakers, you have several options for getting impressive sound from your monitor. This article will walk you through techniques that will enable you to get sound from your monitor without built-in speakers.
---
How Can You Be Sure Whether Your Monitor Has Built-in Speakers?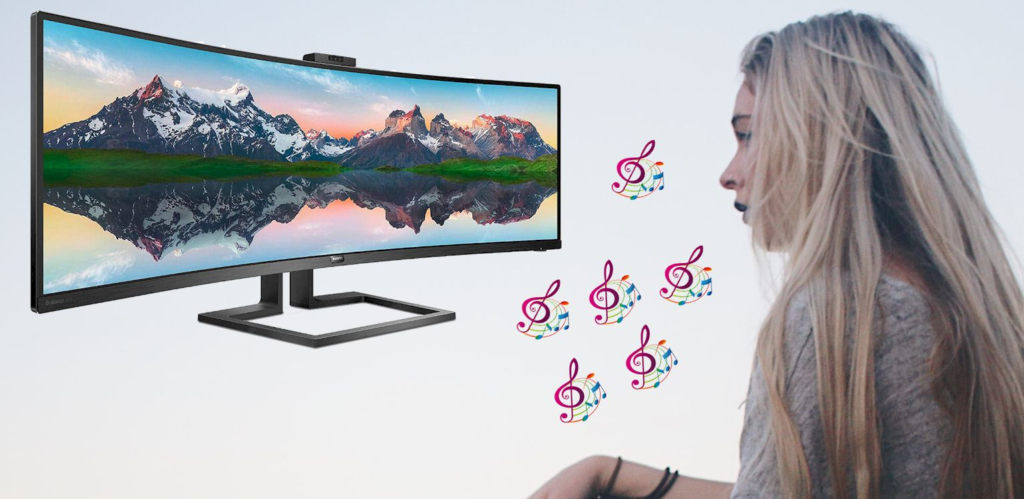 Modern monitors come in two types of design – with built-in speakers and without built-in speakers. You can be sure whether your monitor has built-in speakers or not. Check out the back of the monitor. If you find it has an audio input port, you can be sure that your monitor has built-in speakers. In contrast, if the display has output ports for portable speakers, it means that the monitor has no built-in speakers.
---
How To Get Sound From A Monitor Without Speakers?
If your monitor doesn't have built-in speakers, there are several options you can use to get impressive sound from your monitor that will enhance your online gaming experience or streaming video. These include HDMI Audio Extractor, Optical Out Connection, Composite Cables, RGB Cables, and Wireless Speaker connection. Below we will describe the usage methods of each component.
1. Use Of HDMI Audio Extractor
An HDMI audio extractor is a preferable option if you want to get sound from the display without speakers. You can connect a source device to HDMI, and then produce the audio from your device. Almost any audio device, such as speakers, soundbar can be connected to the extractor.
For this to function, the source device, such as a computer, laptop, TV, game console, etc., must have an HDMI output port. Here we would like to say that audio extractors support only one HDMI input device. Hence, if you intend to connect more than one device, in that case, you will have to use an HDMI Switch.
How To Use An HDMI Audio Extractor?
Here you have to attach your HDMI input of the audio extractor to the HDMI output of your source device, such as a PC or TV.
Utilize the audio analogue outputs on the extractor to connect the speaker to the device. If your speaker has an AUX input, you will need an RCA to AUX cable for this connection.
The speaker should be connected to the auxiliary input using an RCA to AUX wire. Simply attach your headphones to the extractor's AUX output if you're using headphones.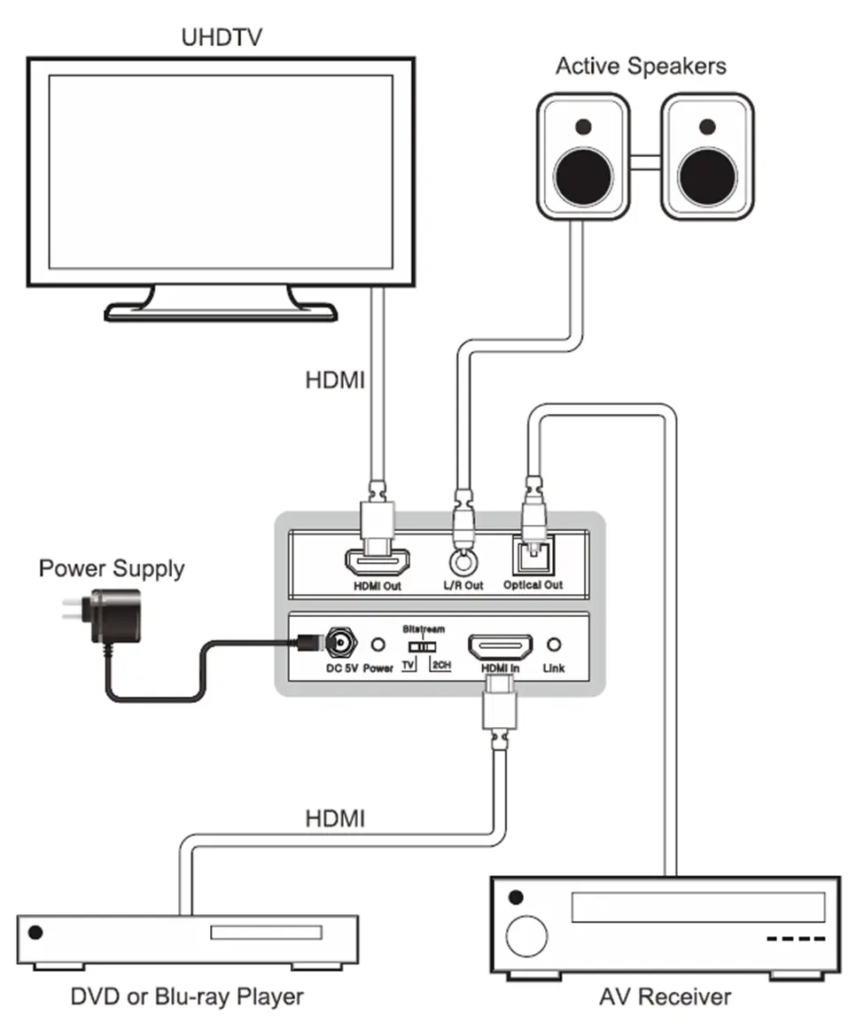 2. Use Of Optical Out Connection
The optical audio out connection from the monitor to your speakers or another audio device can be preferable if you use a gaming console, like the Xbox. High-quality digital audio can be transmitted through the optical out connection without having to go through the analog conversion procedure.
The disadvantage of using this connection is that your monitor should only display video, nothing else! You can output audio and video from your console to speakers and a monitor, respectively.
How To Use Optical Out Connection?
Connect your display to the optical wire.
Now, your step would be to connect the next edge of the optical wire to your preferred optically capable device.
Enjoy immersive gaming by connecting your headphones to the mix amp.
3. Use Of Composite Cables
It would be great to use composite cables with a gaming console. High-quality audio and video are delivered over the composite connection. However, utilizing composite cable will prevent you from watching HD content. A standard AV multi-port will be available on consoles, like the PS3 to output audio and video file.
How To Use Composite Cables?
First, connect your monitor wire to the gaming console. Next, use the audio channels to connect the speakers.
You will need a 3.5 mm Male to RCA Female adapter if your speaker has a 3.5 jack. Talking about adapters, you can get a variety of high-quality Male to Female adapters on Amazon from different brands.
A 3.5 mm stereo coupler will also be needed if you plan to use headphones.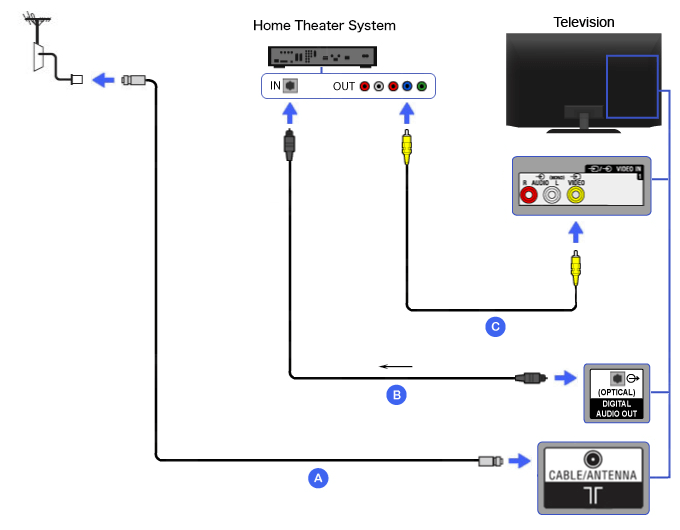 4. Use Of RGB Cables
Your speakers can be connected using RGB cables as well. This will enable the great sound quality output from your console that you expect for your online gaming. These cables will allow the transmission of sound for a left-to-right connection.
How To Use RGB Cables?
Connect the cable to the game console's AV multi-out.
Next, connect the speakers using the left or right channels i.e., L/R channels.
A 3.5 mm Male to RCA Female adaptor is required if your speaker has a 3.5 jack as with composite cables
Sound output through audio input connectors can be achieved by altering the console's audio settings.
5. Use Of Wireless Speaker Connection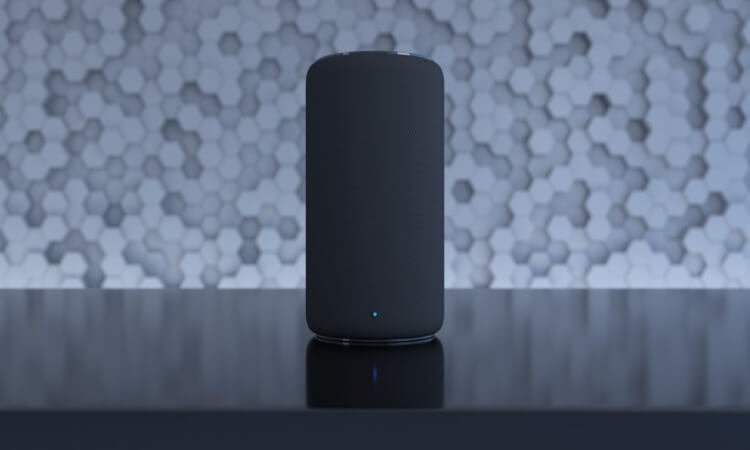 The use of Bluetooth technology can be a good option to get sound from a monitor without built-in speakers, which can make it simple to acquire sound from your system. You can use Bluetooth speakers. These utilize radio frequency (RF) waves to pick up audio signals. Pairing the Bluetooth speaker's wireless system with your monitor, you can enjoy streaming video, music, or video gaming instantly.
---
Conclusion
The techniques noted above will make it easy to output impressive sound from your monitor without speakers. You can utilize any option which you prefer. Be careful in using the methods correctly. I Hope, by reading this article, you have understood the process of different components to get sound from a monitor designed without built-in speakers.
---
---
---