I guess you have recently bought a new Vizio Soundbar and you are trying to figure out How to connect that with your Samsung TV, Am I right? If yes, don't worry as I'm going to help you connect that If you stick with me for a couple of minutes.
---
So, How to Connect Vizio Soundbar to Samsung TV?
In order to connect Vizio Soundbar to Samsung TV, you have to:
Get an HDMI cable.
Connect that to both ends of the Samsung TV as well as the Vizio soundbar.
Plug the soundbar into the power source and turn it on.
Now, turn on your Samsung TV.
Finally, select "Vizio Soundbar" in the sound output settings.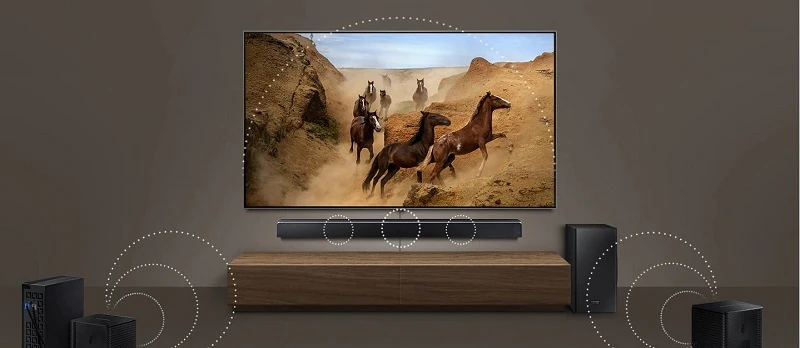 You may already know what an HDMI is but a lot of people don't know what is an HDMI ARC. Let me explain that to you briefly.
---
What is HDMI ARC?
A normal HDMI cable is capable of delivering videos however, an HDMI Audio Return Channel (ARC) cable, is capable of delivering both videos and high-quality audio and doesn't need any extra cables for that. If you want to know more about HDMI ARC, then I would suggest you watch the below video that explains everything in a detailed way.
HDMI ARC is a pretty useful feature whether you have a soundbar or a Home Theater System. It reduces your stress with fewer cables which are very crucial for entertainment purposes. To identify whether your Vizio soundbar supports only HDMI or HDMI ARC, look at the rear of the soundbar like in the below image.
If there's an eARC, don't get confused as it is simply an advanced version of the ARC and nothing else.
If you find only an HDMI port on your Vizio soundbar, you can still plug the HDMI ARC cable in that port however, you won't the benefits of ARC and it'll work as a regular HDMI cable. Most of the brands including Vizio provide at least one HDMI cable from the box and I'm pretty sure that you'll find one in the package If you haven't noticed that already.
I hope now, that you may have clearly understood connecting Vizio soundbar Via HDMI cable. Let's talk about an alternate method If you don't like this one.
Pro Tip: Don't forget to change the sound output settings on your Samsung TV to experience the audio from your Vizio Soundbar.
---
Connecting Vizio soundbar to Samsung TV via Bluetooth
To connect the Vizio soundbar to Samsung TV via Bluetooth, you have to:
Turn on your Vizio Soundbar.
Press and hold the "Bluetooth" button on your remote for 5 seconds.
Turn on your Samsung TV and open the Bluetooth settings.
Search for available devices and connect with your Vizio soundbar.
Before you do anything, make sure that both your Samsung TV and the Vizio do have Bluetooth capability. Even though most modern gadgets are equipped with Bluetooth, it is worth taking a look and confirming that by yourself.
Okay, Let's move on and jump to the main topic again. If you don't want to deal with cables for any reason, then connecting Vizio Soundbar via Bluetooth is one of the best options you have right now.
Unlike any other gadgets, you don't need to charge the soundbar to make it work. All you have to do is, plug the power adapter into any of the power outlets in your home and turn it on. The next thing you have to do is, place the Vizio soundbar in the pairing mode and there are two ways you can do it.
Press and hold the Bluetooth button on the soundbar remote for about 5 seconds and then release.
Press and hold on to the Bluetooth icon on the soundbar continuously for 5 seconds and then leave it when the LED lights on the soundbar blink or move up and down.
This is how you can place your Vizio Soundbar in pairing mode. The last thing you need to do right now is, connect with Samsung TV. Here's how to do it.
Open the Quick Settings on your Samsung TV.
Next, tap on "TV Speaker" and then select "Bluetooth Speaker List".
Finally, select your Vizio Soundbar in the next option and select "Pair and Connect".
And that is it. Now you have successfully connected your Vizio Soundbar with Samsung TV and you can enjoy your favorite movies or web shows with high-quality audio.
---
Frequently Asked Questions
Why won't my Vizio soundbar work with my Samsung TV?
If you are unable to hear audio from your Vizio soundbar with Samsung TV, then there's a high probability that you may not have changed the audio output in your TV. Simple Go to Quick Settings and you'll be able to make that change and then Vizio Soundbar will work perfectly fine.
How do I connect my Vizio soundbar to Samsung TV without HDMI?
You can connect Vizio Soundbar to Samsung TV without HDMI via Bluetooth or Optical Cable.
Is it better to connect the Vizio soundbar with HDMI or Bluetooth?
Both HDMI and Bluetooth work perfectly fine with Vizio Soundbar, however, If you want stable connectivity and don't want any interruptions, I'd suggest you go with HDMI.
Do Vizio Soundbar have optical out?
Yes, most of the latest Soundbar from Vizio do come with optical out.
---
Final Words
Connecting Vizio Soundbar with Samsung TV isn't a big deal at all. You just need an HDMI cable to connect that and If that doesn't suit you, simply turn on the Bluetooth on both devices and you'll be able to connect that in no time. I hope this post may have helped you connect Vizio Soundbar to Samsung with easy-to-follow steps. Let me know If you have any questions on this in the comments below. Cheers!
---
---
---