With the Fire TV Stick at home, you must have thought about streaming a movie or a video on your TV from your favorite media streaming platform. But then you realize that your TV speakers aren't up to the mark. So, have you got a pair of excellent Bluetooth speakers but you don't know how to connect them to the Fire TV Stick? Then you've come to the right place.
Here is a step-by-step guide to direct and help you by providing  proper instructions about how to connect your Bluetooth speakers to your Fire TV Stick and enjoy premium quality media streaming.
---
What is the Fire TV Stick?
The Amazon Fire TV Stick is a media streaming device by Amazon which when plugged- in to your TV, converts it into a Smart TV that can allow you to stream movies and videos from top OTT platforms such as Amazon Prime, Netflix, Disney+ Hotstar, HBO Max, etc.
It is a simple but smart plug and play media streaming device. As long as you have a screen to plug the device into, you are ready to stream any media services you want.
---
How to Connect Bluetooth Speakers To Firestick

Before going up for anything, first set up the Fire TV Stick with your TV and see that both are powered on and ready to start. Use your TV's input selector to select the Amazon Firestick as your display broadcaster.
Step-1
Go to Fire TV Stick settings :
After your Firestick set up is completed, get the Fire TV Stick remote and then go to the Fire TV settings page.
If you don't have your remote, you can also use the Amazon Fire TV remote app from your phone to get to the settings page on your Fire TV Stick.
Step-2
Go to Controllers and Bluetooth Devices :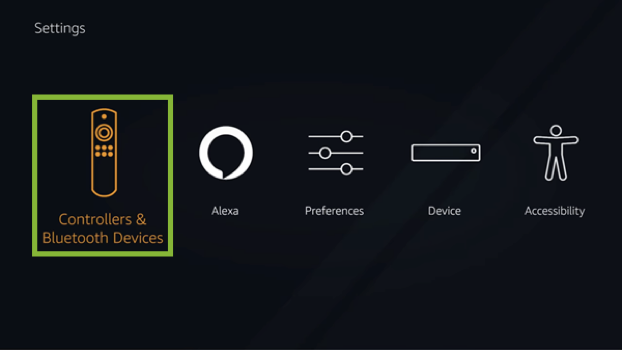 Once you are on the settings page, you will see an option Controllers and Bluetooth Devices. Navigate to this option and open it. Even if this page doesn't specify Bluetooth speakers particularly but Bluetooth speakers are included in the list of Bluetooth devices, so this will be it.
Step-3
Set your Bluetooth speakers to Pairing Mode :
While you are setting up the procedure on the Fire TV Stick to set up your Bluetooth speakers, get your Bluetooth speaker and activate its pairing mode.
Every speaker has its own method to open the pairing mode and depending upon your speaker you too must be having a method.
Use this method according to your device and put your Bluetooth speakers to pairing mode so that the Fire TV Stick will be able to search for it and then connect to it according to your will.
Step-4
Select your Bluetooth Device :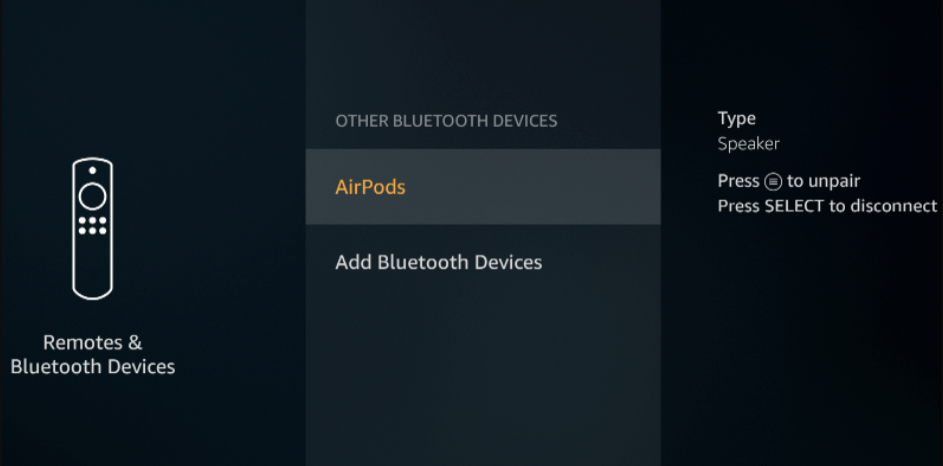 On the Controllers and Bluetooth Devices page select the Other Bluetooth Devices. Here you will add the Bluetooth Speaker that you have.
Since you have already set your Bluetooth speakers to the pairing mode, your Fire TV Stick must have started searching for all the nearby Bluetooth devices.
Once you find the name of your Bluetooth speakers on the list, select it and confirm the process of pairing by pressing OK and then both the devices will be paired to each other.
The speaker might produce a chime sound to provide the pairing successful information. On the screen, you will see that it is written that the speaker is connected.
Step-5
Ready to Use :
Now your Bluetooth speaker is connected and ready to use. You can now go back from the settings menu and start using the Firestick to enjoy your media from your favorite streaming platform while enjoying the quality sound from your Bluetooth-connected speakers.
---
Points to Remember
If you see multiple devices on the other Bluetooth devices list, do check out the devices' names. Your device might be named on the brand and model it is based on or else it might have a custom name that you might have given it at some point in time. Recognize your device and select it to pair it with the Firestick.
Also keep in mind that during the process of searching for Bluetooth devices, your Bluetooth speakers should not be already paired with any other devices.
What if I don't find my device on the Discovered Devices list?
If your speaker's name doesn't appear on the discovered devices list, you may try out a few things to check if it works for you or not:
Turn your Bluetooth speaker off and on again and put it to pairing mode while the Fire TV Stick still continues to scan for Bluetooth devices.
Switch off all the powered devices including your TV, Fire TV Stick, and your Bluetooth speakerand start everything from scratch once again following all the above methods.
You should double-check the speaker instruction manuals to see if you have properly put the device into pairing mode and if there are any more specificifications that need to be carried-out with the speaker after being powered on to pair itself with a device.
---
What if I Wish to Connect More Than One Bluetooth Speaker?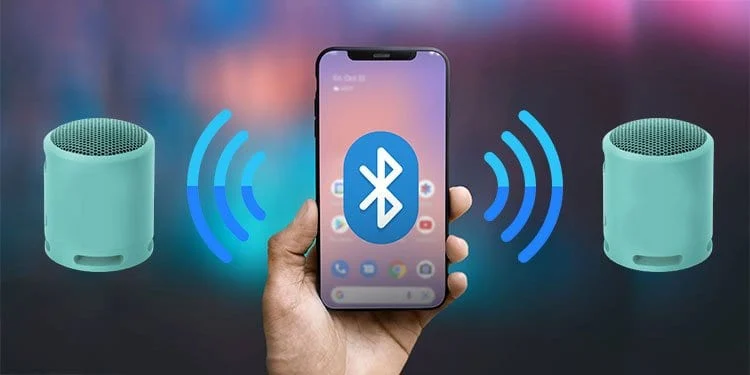 Unfortunately, the Amazon Fire TV Stick only allows one device to get connected so, it is not possible to connect multiple speakers through the Bluetooth connection method. But even if there is no stereo sound feature on the Firestick, you can use another device i.e., a Bluetooth Transmitter/receiver so that you can connect a bunch of Bluetooth devices first to this receiver and then to the Firestick.
Connect the speakers to this receiver and then connect this receiver device to your TV audio port because you won't be able to connect it directly to the Firestick sound source. Therefore you have to use the TV audio source.
---
Can I connect Bluetooth Headphones to Firestick?
Since Bluetooth headphones also come under Bluetooth devices, if you want to use a Bluetooth headphone instead of a Bluetooth speaker, all the above instructions apply to it as well. You can follow the same instructions to connect your Bluetooth headphones to the Fire TV Stick.
---
Conclusion
By following the above procedures and instructions, you can easily connect your Bluetooth speakers to your Amazon Fire TV Stick. It is a relatively straightforward process to do. So, once you do and remember it, it will be easy to do it for you the next consecutive times.
And since it is not too complicated to connect more than one Bluetooth speaker to your Fire TV Stick, it thus allows you to build a great home theatre in itself.
So, connect your Bluetooth speaker or your Bluetooth headphones and immerse into the great experience that you would be having while watching your favorite movies or videos on your favorite media streaming destination.
---
---
---