Klipsch has a reputation for producing some of the best sound devices available on the market. This review shall conduct an in-depth comparison between Klipsch RP-280f and RP-8000f to determine the better one of the two.
When it comes to the speaker market, Klipsch is not lightweight. It produces premium quality audio devices that can muster extremely high volumes without distorting the sound like many 'party speakers' in the market. The Klipsch RP-280f and RP-8000f are some of the most popular options available if you want an affordable yet high-quality sound experience. Let us delve into the features of these two devices and find out which one reigns supreme.
---
What are the differences between Klipsch RP-280f vs RP-8000f?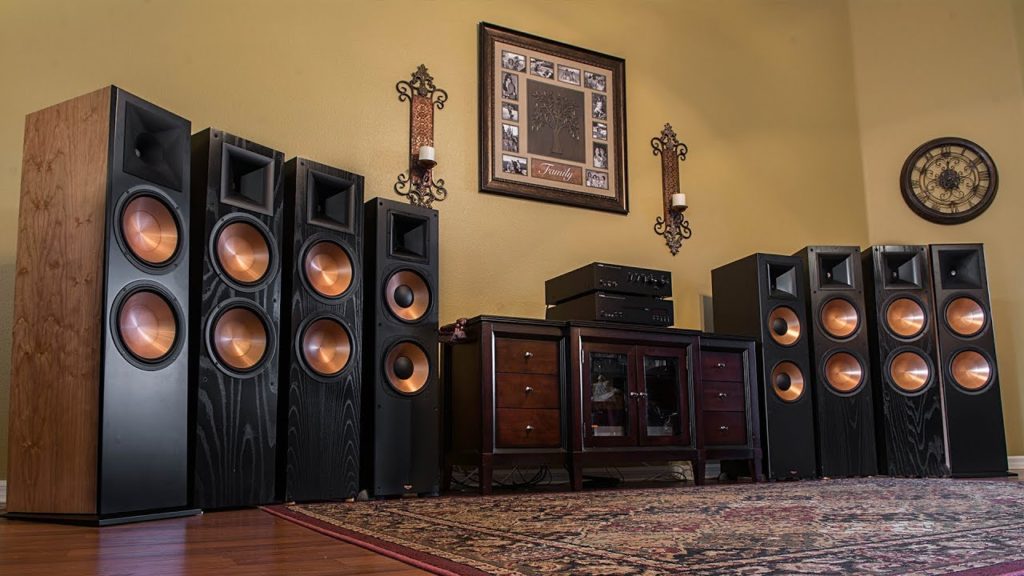 Klipsch RP-280f vs RP-8000f – How do they compare?
Design: Both the Klipsch RP-280f and the RP-8000f are very similar in appearance. They both have almost the same product dimensions, but the RP-8000f is slightly more massive than the RP-280f. The speakers sport a trendy-looking design with the outer layer made from scratch-resistant material. They have aluminum feet, which aids in reducing resonance.
Both devices have a wooden look with a vinyl finish, and their bodies consist of a textured and grained style. Additionally, the grille is attached to the frame using magnets, meaning it is easily detachable. The speakers also have a copper-colored frame that hides their drivers, giving it a transparent appearance that does not allow users to see the screw holes from the front.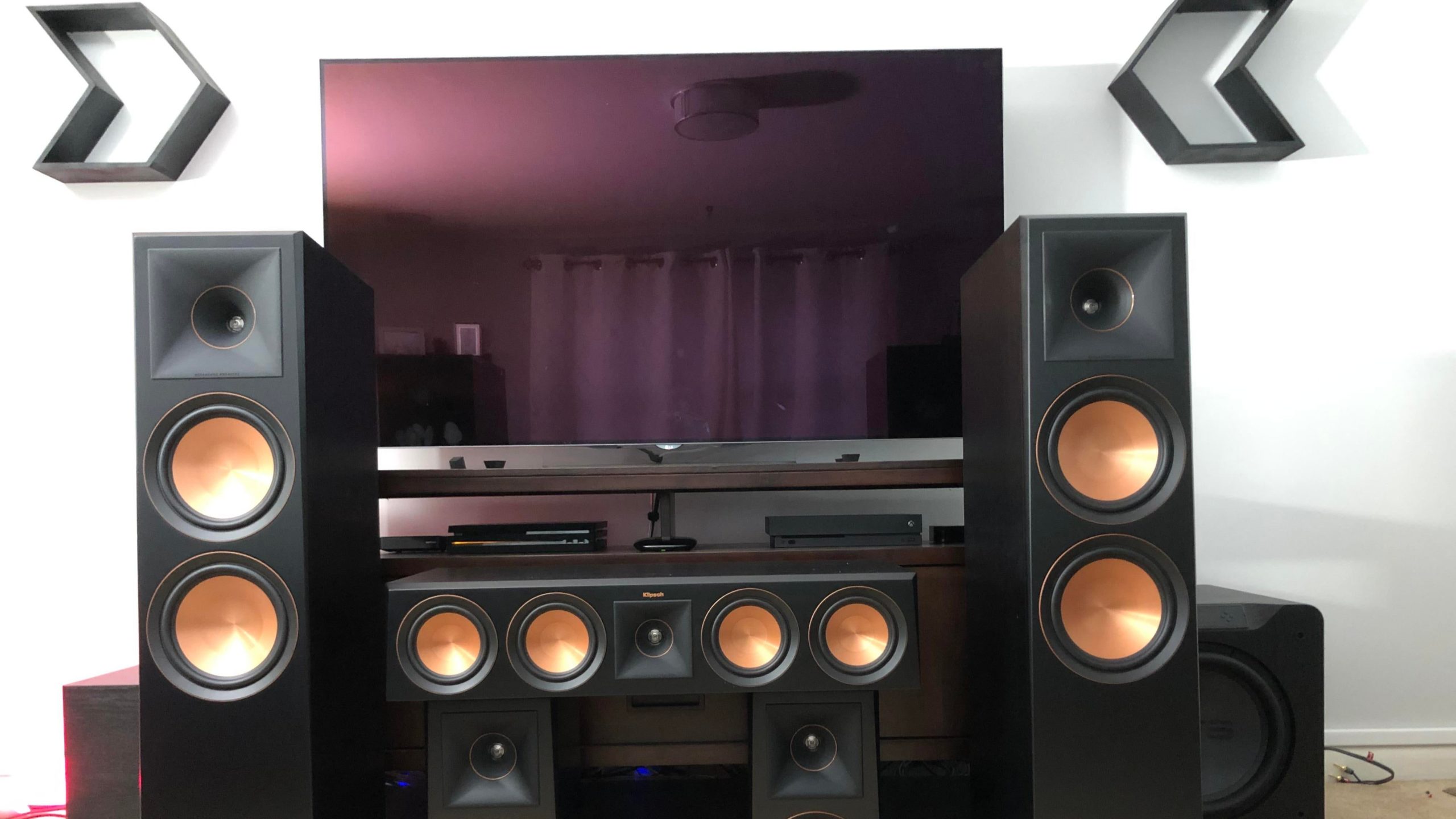 Performance/sound quality :
The Klipsch RP-8000f floor standing speakers deliver a precise and dynamic sound, making it an ideal option for home theater and hi-fi surrounding systems. It comes with two 8-inch copper cerametallic woofers, and Titanium LTS vented tweeters with a one-inch Hybrid Tractrix horn for exceptional sound performance.
The horn is square-shaped and is directly above the tweeter to reduce artificial and unwanted reverb and prevent the bouncing off of unwanted and unnecessary sounds from surfaces. As a result, the speakers deliver a clear and premium quality sound without any sound distortion.
When it comes to the Klipsch RP-280f, many consider it one of the largest floor-standing speakers from Klipsch's Reference Premiere line. It is amazingly loud with a sensitivity of 98dB and produces clear, smooth, and detailed sound, even at the lowest volume.
The speaker comes with a new Tractrix Horn that provides a virtually distortion-free sound, extremely dynamic 1″ titanium LTS Vented Tweeter, and dual 8-inch copper cerametallic woofers. Furthermore, you can upgrade the speakers from a simple 2.0 system to a 2.1 system by combining it with some Klipsch 15 or 12-inch subwoofers.
---
The Klipsch RP-280f has better sound quality and higher sound wattage than the Klipsch RP-8000f.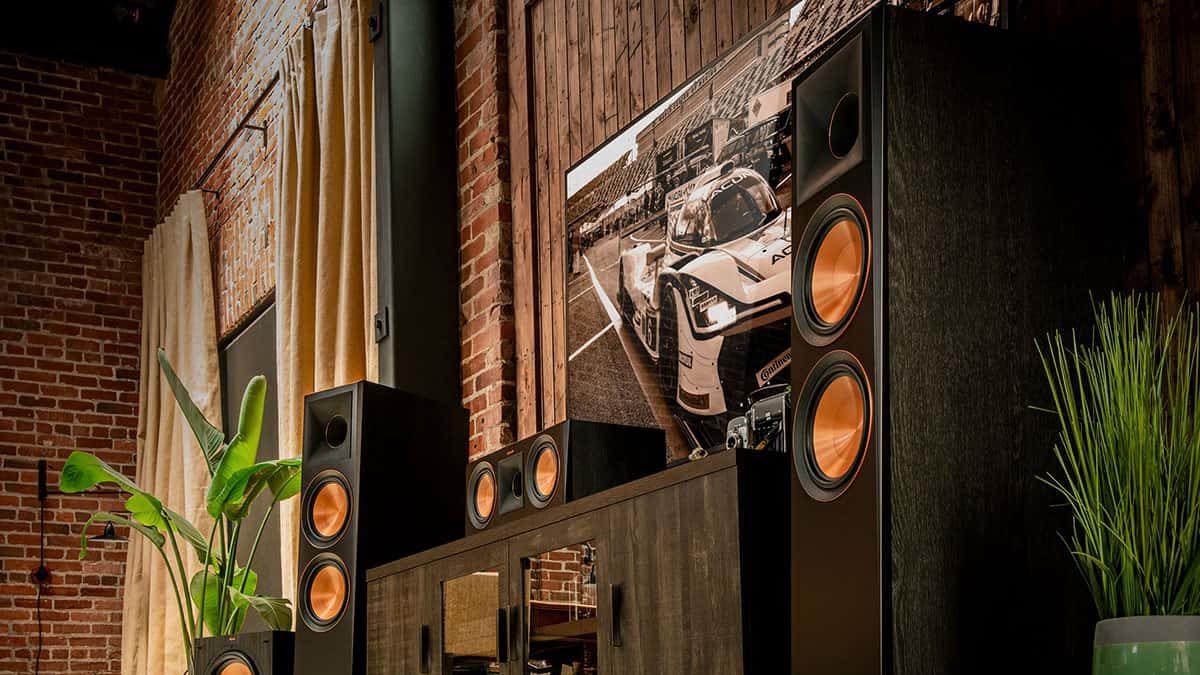 Bass response :
Klipsch RP-280f has an incredibly deep and powerful bass response, even without using a subwoofer. When listening to 'Wildfire' by Bensley, the vocals and mid ranges were perfectly clear and dynamic. Its highs were sparkling and very smooth, and the new Tractrix Horn eliminated almost all the resonance to deliver a more neutral frequency response.
On the other hand, when listening to the 'Remember Me' album from Jimmy Lee Robinson on the Klipsch RP-8000f, the vocals and acoustic guitar playing were reproduced admirably.
It was as if I was at the center of the soundstage as Robinson recorded it. The bass response was very authoritative, deep, and outstanding. However, I noted there was little definition when it came to upper bass to lower mid area.
---
The Klipsch RP-280f delivers more powerful bass without any sound distortion than the Klipsch RP-8000f
Extra features :
Both the Klipsch RP-280f and RP-8000f come with Tractrix ports for effective and fast air circulation from the cabinet to reduce port noise and deliver more punchy low frequencies. The speakers also feature dual binding posts for bi-amping /bi-wiring capabilities. Bi-amping aids in customization using outboard crossovers when utilizing separate amplifiers, while bi-wiring separates low and high-frequency current into speaker cables, reducing midrange distortion.
---
Klipsch RP-280f vs RP-8000f- A Comparison Review
Klipsch RP-280f review :
This floor-standing speaker happens to be the largest speaker in the Klipsch Reference Premiere series. It features a unique and ergonomic design that enables it to deliver excellent sound quality.
Although the design is similar to other Reference Premiere speakers, you can notice some subtle changes on the RP-280f. For instance, the speakers are at a distance above ground level, and its bottom speakers have a 2-degree tilt that aids in maximizing the ideal angle adjustment.
The speaker comes with the traditional Klipsch cerametallic woofer and aluminum tweeters, which both have copper accents to blend well with the polymer veneer finishing. Its Tractrix Horn has a rubber coating around it that prevents resonance from delivering a flattering frequency response.
Other impressive features of this speaker's design are its magnetically attached grille, dual binding ports at the rear port area for enhanced cable management, and unique bass-reflex design in the subwoofer.
Additionally, the RP-280f is a huge powerhouse tower speaker that provides its listeners with an unparalleled audio experience. With just its simple 2.0 system, the speakers deliver deep and powerful bass without requiring a powerful amp to run. However, if you want a fully immersive experience, we recommend purchasing the full system, including the woofers.
Thanks to their 98dB sensitivity, these speakers are extremely loud without compromising sound quality at high volumes. It reproduces impeccable stereo imaging and separation with a deep and wide soundstage, an improved and greater tone rendition, as well as an overall enhanced sound dynamic.
The frequency response of the RP-280f is 25 Hz to 32 Hz, and each speaker can handle a minimal power outage of 150 watts and a maximum power outage of 600 watts at 8 ohms nominal impedance. As a result, the speaker is easy to use and ideal for highly demanding and spacious sound requests.
Here's a video review by ThatHomeTheaterGuy If you want to know more about this amazing speaker.
---
---
Pros
Magnetically attached grille.
Exceptional sound performance.
Easy to drive and power-efficient.
Clear, deep, and powerful bass with rich audio at all ranges.
Flatter frequency response.
Cons
Too loud for a small room.
Large size.
Recommended: Comparing Klipsch RP-260f vs RP-280f to know which is a better speaker
Klipsch RP 8000f review
Are you looking for a speaker that delivers a highly satisfying sound to fulfill your music-loving soul? Perhaps the Klipsch RP-8000f is what you need. These floor-standing speakers come with cutting-edge technology that provides extreme sound quality to complete your home theater experience.
The RP-8000f features dual 8-inch copper cerametallic woofers and titanium LTS vented tweeter with a one-inch Tractrix Horn. It also comes with Hybrid Tractrix Horn technology to further enhance the sound quality produced. Found directly above the tweeter, this speaker's horn technology is bulky and has a square shape.
Its cone is lightweight, which aids in keeping the frequency at a standard level. Likewise, the high and low notes or the sound quality do not diminish at varying distances; hence, thus sustaining the quality and clarity of the sound in bigger halls or rooms.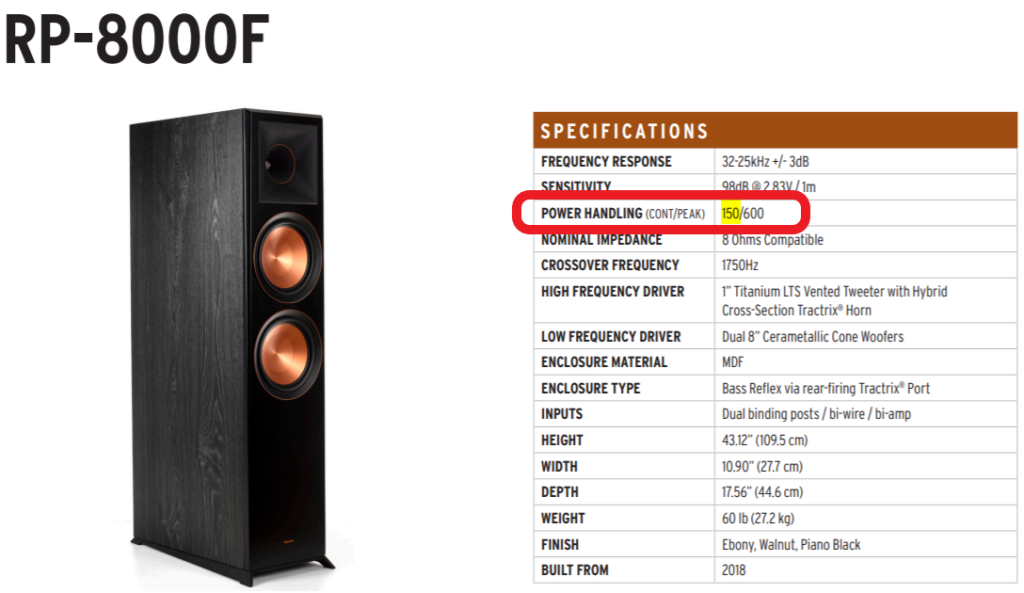 Another impressive feature of the RP-8000f is its cerametallic drivers made from Sintered Fe-Cu material, which is also the material used in making these speakers. As a result, the speaker is quite durable and extremely lightweight for efficient portability. Its lightweight design also ensures the audio quality is at lower frequencies and aids in delivering them with equal efficiency to the listener.
Its vented tweeter also comes with a unique design that enhances the frequency delivery of the audio. It reduces the waves behind the tweeter's diaphragm to minimize noise and distortion. The diaphragm is also very lightweight as it consists of aluminum, polymer, or silk material.
If you want to know more about Klipsch RP 8000f review, then I would highly suggest you watch the below video. It is going a lot more info about this speaker.
Pros
Smooth and soothing highs and mid-range vocals.
Deep and punchy bass response.
Modern design.
Affordable.
Above-average sensitivity.
Cons
Incompatible third-party cables.
---
Frequently Asked Questions
Do I need to buy a subwoofer with the Klipsch RP-280f?
No. It delivers an excellent output with its simple 2.0 system.
What is the lowest wattage the Klipsch RP-8000f speakers can withstand?
---
So this is the overall comparison between Klipsch RP-280f VS RP-8000f that may give you some sort of idea of which one you should pick for. Share your thoughts about this comparison and let me know If you have feedback. Cheers!
---
Conclusion
Not only do floor-standing speakers deliver an immersive sound, but they also look good and blend in with most home decors. Designed to slot in next to TV cabinets and bookshelves, Klipsch speakers take up a small footprint while creating theater-quality audio. The RP-280F and RP-8000F are both fantastic considerations when buying floor-standing speakers.
Final verdict: So which is better, Klipsch RP-280f or RP-8000f?
Both speakers can deliver some realistic sound restitution, but the Klipsch RP-280f offers more power and mesmerizing sound delivery than the Klipsch RP-8000f. It delivers perfectly smooth mids, and vocals and the overall output is clear, detailed, and comprehensive. Despite providing an incredible sound output as a 2.0 system, you can upgrade it to a 2.1, 5.0, or 5.1 to further enhance the output, making it a flexible option for home theatre systems.
---
---
---