Introduced by Facebook, Oculus Quest 2 is one of the latest things in the VR world. This standalone device comes with rich built-in headphone capability, offering an exceptional sound experience.
But if you feel like using your own headphones with the Quest 2, you can certainly do this. Though there is no mention by Oculus of supporting Bluetooth connectivity, you can use both wired and Bluetooth-enabled headphones with this device.
---
Using Wired Headphones with Oculus Quest 2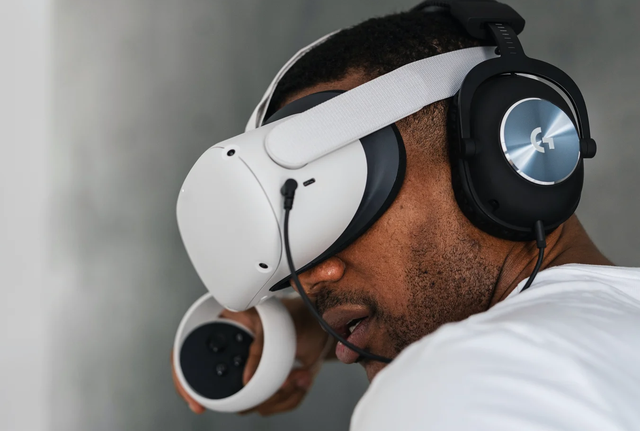 Quest 2 comes with a 3.5mm jack and a USB-C connectivity port. So, you can use headphones having the same specifications.
To connect your headphone, simply plug them into the audio port provided on the right part of the headset.
There is no point in connecting two headphones at a time to the Oculus Quest 2 as only one, which is inserted into the 3.5mm jack will work. Also, the USB-C-type headphones won't work if you are charging the device's battery.
---
Connecting Bluetooth Headphones with Oculus Quest 2
As mentioned earlier, in Quest 2 there is no mention of Bluetooth connectivity in Quest 2. But this does not mean you cannot connect your Bluetooth headphones to this device. It can be done in the 'experimental mode!'
A bluetooth connection is a great solution to get rid of wired connections, especially when you are a gamer. Hence, to utilize this capability in Quest 2, you need to follow these steps.
Put your Bluetooth headphones in pairing mode.
Now, you need to put your Oculus 2 device into the experimental mode to connect it to your headphones.
For this, open the settings menu, which is available under the home screen of the Quest 2 tab.
It is slightly difficult to find the experimental feature tab in the menu. But you will see it in a few minutes and as soon as you see it, click on it.
Here you will find the Bluetooth pairing tab. Select this option and wait for a few seconds to see your Bluetooth headphone's name being displayed on the list.
The list of devices that are available for pairing with Oculus Quest 2 will appear. If you are unable to see the name of your headphone, you need to shut down and again start the pairing process.
Connect your headphones to the device. You can now enjoy the sound system on your headphones!
---
Does Connecting Your Bluetooth Headphones to Oculus Quest 2 Lead to Performance Issues?
Quest 2 is not mentioned for connectivity with Bluetooth headphones. So, if you are going to do that is something against the provided rules, this is going to lead to some issues.
There can be a serious reduction in frame rates. You may witness regular lags during the game.
It may happen that the audio is not synced with the video. This can hamper your overall gaming experience to a great extent.
There can be a severe latency issue in the game. The latency problem is caused due to compatibility concerns between the Quest 2 and Bluetooth headphones. Both these devices receive and process video and audio signals, which are not synced. Hence, it affects the performance of the device and leads to a reduced performance rate.
It can happen that your game witnesses stuttering issues. This can again make your experience unplayable and non-enjoyable.
---
What Can You Do to Connect Your Bluetooth Headphones to Oculus Quest 2 without Affecting the Sound Quality?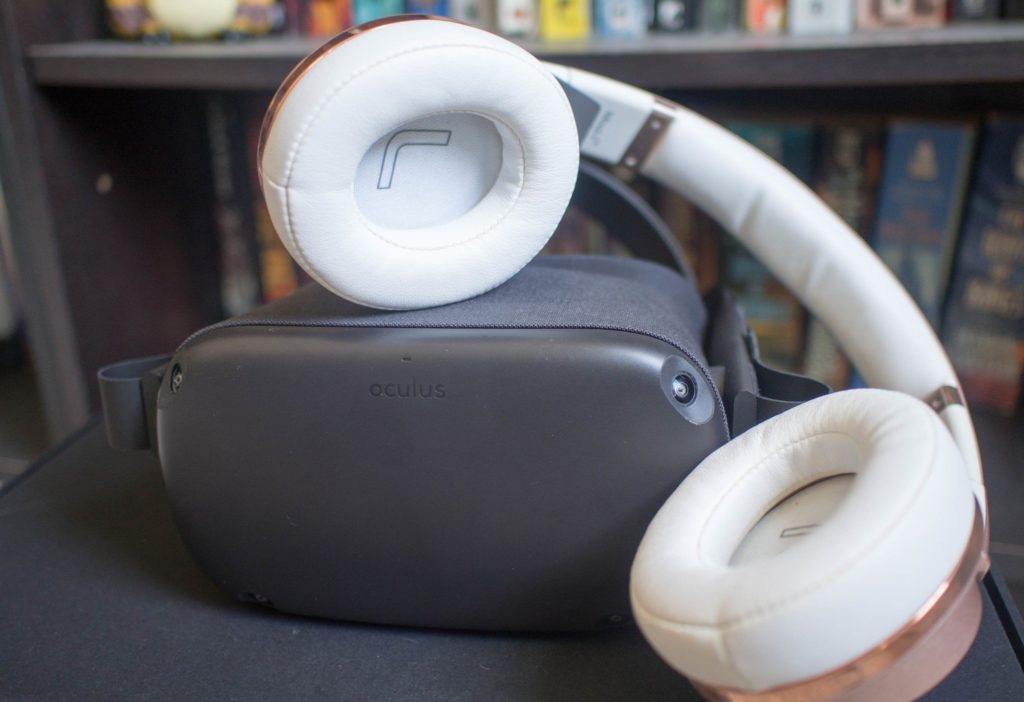 Due to the abovementioned issues, most of the users suggest avoiding connecting your Bluetooth headphones to your Oculus Quest 2 device.
The frame rate reduces and lag occurs because this device is wireless. However, it is possible to enhance the gaming experience and get rid of most of these issues while using your Quest 2 through a simple solution. All you need to do is install a high-quality Bluetooth Transmitter.
This Bluetooth Transmitter gets fixed into the 3.5 mm jack and ensures that the wireless signals are amplified for the audio content.
Using such a transmitter is a great way to achieve seamless sound quality on your headphones without stripping them off your Quest 2. For added comfort, you may tie the transmitter to the headset using a Velcro.
---
Headphones Recommended to Use with Oculus Quest 2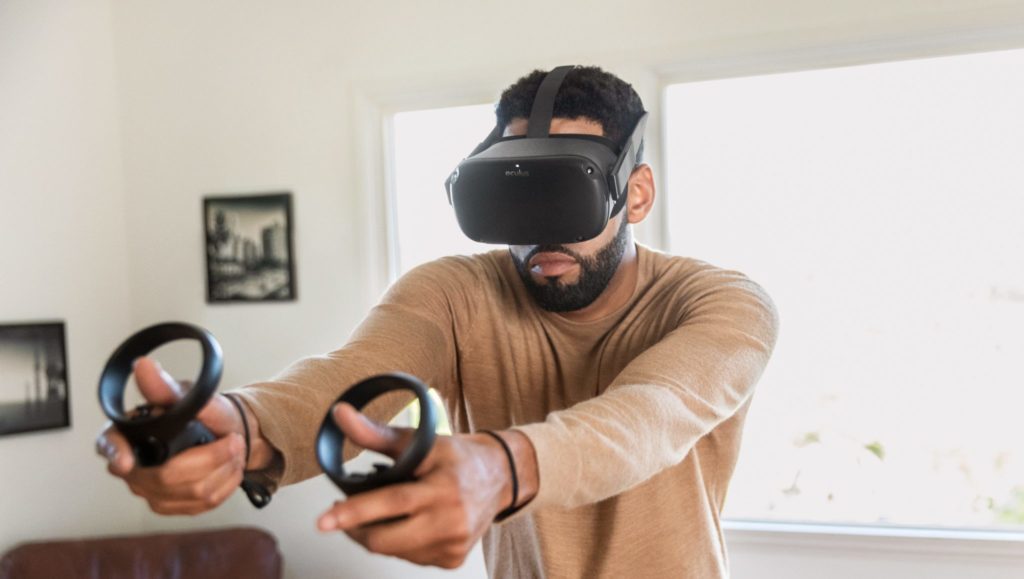 The following adapters and headphones are proven to work well with Oculus Quest 2.
For USB-C 3.5mm Adapters you can use an Apple USB-C adapter, Samsun USB-C headphone jack adapter, and Google USB-C adapter.
For USB-C headphones you may use OnePlus Type-c earphones, Samsung Type-C headphones, and Pixel Type-C earbuds.
---
Bluetooth or Wired – Which Headphone to Use with Oculus Quest 2?
When it comes to playing intensive games, there is no better choice than Bluetooth headphones as they are handy and avoid wire-clutter. Also, pairing them is just a matter of a few seconds, and once done you can enjoy long-lasting connectivity even when you are charging your device or resting it.
But connecting Bluetooth headphones to Quest 2 may lead to lags and may make your game slightly choppy. This is a major reason why it is better to use wired headphones.
Hence, wired headphones are a better choice than Bluetooth headphones. They are more convenient to connect to and ensure you experience great sound quality. They even do not lead to lags or disruptions during the gaming session. But having a wire can be slightly messy.
---
Can I use other Bluetooth devices with my Oculus Quest 2?
Till date, no list has been released to specify the Bluetooth devices that can be used with Oculus Quest 2. It is expected that most Bluetooth devices are compatible with this device. But the company has already mentioned the experimental feature of Quest 2 to connect it with Bluetooth-enabled devices. To explore more on this topic, you can test your Bluetooth devices for the connectivity issue.
But before you connect a new device, remember that you can always use and connect a device with a 3.5mm jack.
---
Final Words
Connecting your Bluetooth headphones to the new Oculus Quest 2 is a simple task. It is almost similar to connecting other Bluetooth devices. You just have to perform an additional step of opening the experimental settings.
By following this additional step, you can easily connect your Bluetooth headphones to the Quest 2 and enjoy a brilliant gaming experience.
---
---
---