Everyone wants a home theatre setup with an immersive sound experience. In this context, buying a JBL speaker is a great investment. However, one speaker is not enough to offer you powerful surround sound. Hence, the best alternative is to connect two or multiple JBL speakers at the same time.
You don't have to be tech-savvy or a software graduate to do so. The connection steps are simple to follow. All you must know are the benefits of connecting 2 JBL speakers, follow the connection steps correctly, and must be able to troubleshoot various issues that may occur during the process.
So, let's begin!
Why Connect 2 or More JBL Speakers?
If you are a party freak or you often watch movies at your home or you are a gaming expert or you love entertainment, connecting JBL speakers is a boon for you.
A single JBL speaker is robust enough to fill an entire decent size room with sound. However, it would not result in an immersive sound time. To feel every beat and music, you need to back up your sound system with more power, which more than one speaker allows.
So, whether you are partying or watching your favorite show you can get that theatre-like experience right at your home.
Moreover, you can establish a secured connection between your subwoofer with multiple connected JBL speakers for a simple yet powerful option. 
What is the Technology Behind Connecting Multiple JBL Speakers?
You can connect not just two but hundreds of JBL speakers. This is possible because of their wireless connectivity technology – Bluetooth.
Using Bluetooth technology, you can connect numerous speakers without requiring an AUX cable or having a cluttered setup. The process is very simple and it lets you enhance the audio volume by 100 times.
But each speaker that you want to connect must incorporate the 'JBL Connect+' feature and not the 'JBL Connect.'
If you don't want to use the Bluetooth connectivity functionality you can use the 'JBL Connect app' to link multiple speakers together. The way you choose depends entirely on your preference and convenience. 
Finally, you can connect your JBL speakers using the 'Party Boost' feature.
So, you see, there are three ways to connect two or numerous JBL speakers:
Using JBL Connect App
Using Bluetooth
Using Party Boost Option
How to Connect 2 JBL Speakers Using Bluetooth?
Bluetooth is one of the simplest ways to join JBL speakers. It is possible to connect up to 100 JBL speakers with this technology. But all the speakers must have the 'JBL Connect+' feature for the same. The steps you need to follow are: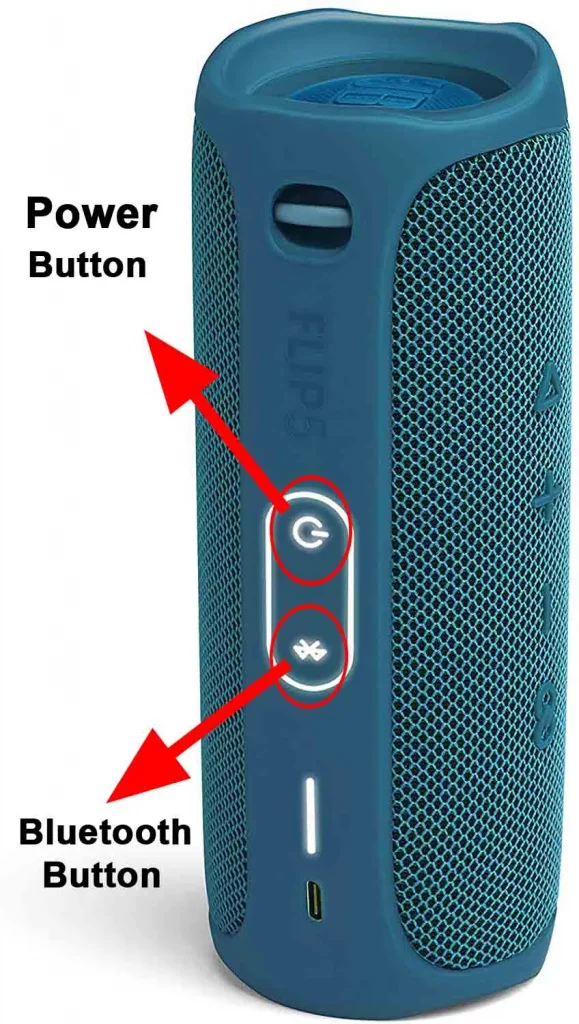 Step 1 – Turn on the Speakers
Turn on the speakers that you want to connect and turn on their pairing mode as well. It may take time to pair up new devices, which have never been connected. When the connection is done you will see a blinking LED light on your speakers.
Step 2 – Pair Speakers with the Source
If your source is your smartphone you need to connect all the speakers to the source device. For this, open the settings and turn on the Bluetooth of your phone. Now click on the option 'Pair New Device' and select the JBL device in the list.
If your source is an iOS-powered device you need to open the settings, turn on Bluetooth, check other devices and attach it to the desired JBL unit.
For MAC operating systems you need to open the Apple menu and choose System preferences. Next, click on the Bluetooth feature and connect the JBL device.
Finally, for Windows operating system you have to open the settings, turn on Bluetooth, and select other devices for a secured connection.
Step 3 – Check for a Successful Connection
It is necessary to cross-check that all your devices are paired successfully. This is vital for audio confirmation.
Step 4 – Play Sound/Music
Play music from the source device. You will be able to listen to the music from just one device as of now.
Step 5 – Connect Multiple JBL Speakers
For activating all other JBL speakers, you must press the 'Connect' button, which is an hourglass design. Press the button on all JBL speakers for a successful connection.
How to Connect 2 JBL Speakers Using JBL Connect App?
A great alternative is to conveniently connect JBL speakers using the JBL connect app. The app is available on download platforms like Apple AppStore for iOS devices and Google PlayStore for Android devices.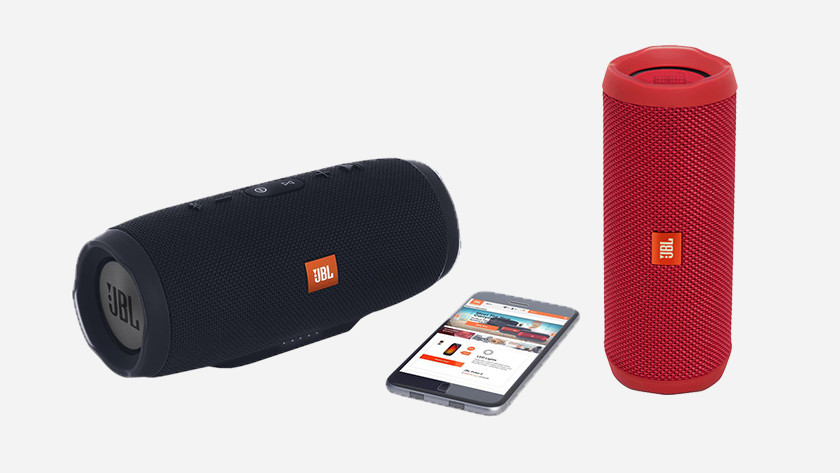 With the JBL connect app, it is possible to pair JBL speakers together from one source. But for using this app the speakers must be compatible with each other.
The best part of using this app is that it allows you to conveniently control the way you listen to the audio track. Also, you can simplify the sound to a great extent.
How to Link JBL Speakers Using Party Boost Option?
The latest technology to connect JBL speakers is using the PartyBoost feature. It lets you connect various JBL speakers and play music from one source. You can connect up to 100 speakers using this technology. But for this, your speakers must include advanced functionalities like JBL Charge, JBL Plus 4, JBL Flip 5, and JBL Extreme.
The connection steps that you may follow are:
Step 1 – Turn on JBL Speakers
Turn on the Bluetooth in JBL Speakers for a secured connection
Step 2 – Connect One Speaker to the Source Device
You may connect one speaker to the source device using Bluetooth. When a connection is done, the LED backlight will appear.
Step 3 – Use the PartyBoost Feature
Select the 'Party Boost' feature on the speaker you have connected to the source code.
Step 4 – Connect All the Speakers
Now, press the 'PartyBoost' feature on all other JBL speakers. You will see an LED light blinking in the center. It indicates that your speakers are well-connected and the audio from the source will appear in every JBL speaker.
What Else You Must Know?
Since you are not an expert, so there are other things as well that you must know.
What To Do If Your JBL Speakers Fail to Connect?
If your speakers are not able to connect, you must check whether the speakers have the JBL Connect feature or not. If they lack such a feature, your speakers will not be able to connect.
How Can You Disconnect One JBL Speaker from Other Connected Devices?
You can connect one speaker to other connected JBL speakers by turning off or disconnecting the Bluetooth button. The disconnected JBL speakers will stop functioning while other speakers will continue to play music.
Is it possible to connect all JBL Speakers?
No, not all JBL speakers are compatible with connectivity. The speakers must have the same daisy-chaining or pairing technology.
For example, JBL speakers with the JBL Party Boost feature are not compatible with the JBL connect technology. Hence, for connecting your speakers, each speaker must have the same technology.
Conclusion
It is possible to connect numerous JBL speakers to various devices using Bluetooth technology. But if it does not seem promising to you, check the other alternatives.
If your speaker has Bluetooth 5 technology, it is promising and can connect numerous speakers. Just follow the above-mentioned steps as it will let you enjoy incredible music the way you want. 
---
---